CONTAINER ACCOMMODATION – TENDER FOR THE CONTAINER CITY INTERNATIONAL ARCHITECTURAL COMPETITION BY UNI
2021
Architects
Zoltán Páricsy
Győző Wittinger
Teréz Zwickl
Architect assistant
Orsolya Jáger-Lőrincz
Visualization
Bence N. Krajnyák





Our firm entered the Container City international architectural competition by UNI with 6 separate tenders.
Thank you for your vote and support!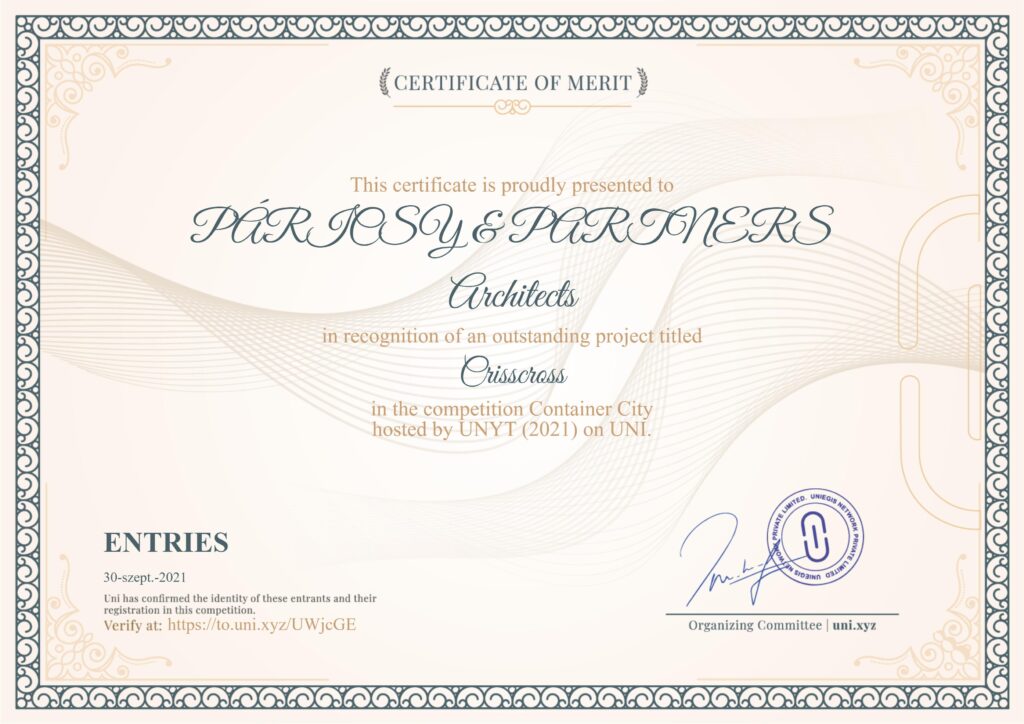 What if you want to hide away from the world for a shorter or longer period of time? Say, you do not want to mingle around in the bustle of the city. Indeed, it is not that you want to pass unnoticed in the crowd; what you really want is to get away from it all, to escape. You want to breathe fresh air, hide deep in nature. In a dense forest. And why not?
Let us immerse ourselves in nature! The mountains, the forests!
Let us find out something that is suitable for this hide-away. Let us build something that is not too high, not too pretentious, not at all exhibitionist, but just the right size and quality that provides a haven for us. A hiker, a commuter, a student, or somebody who simply wants to live there for some time. Something that does not destroy or ravage its surroundings; it just cuddles in the environment, whose beauty and secrets to discover made us long to go there. Just because it is good to be there. Not because of the building or the accommodation, but because of where it is nestled.
There are several ways of constructing such havens where you can hide away. Our idea about it is simple:
Take 15 used freight containers!
Clean them!
Do not take them too far away!
Joint them up in the simplest possible way!
Do not erect a high tower!
Put the containers one on top of the other or side by side in a way that you know each and every container will house different people!
We do not know how long they will want to stay there, therefore assemble the containers in a way that they remain separate!
People should be able to sleep, rest, eat and wash (themselves) in the containers!
The containers should be rotated in a way that if their residents look out of the window or step outside from the apartment, they should not disturb the neighbours!
The apartments, should they be either on the lower or upper levels, should have open platforms, because the inhabitants would wish to rest and look round in the open air!
"Dress up" the building in a way that it should protect and hide its residents!
Erect the building in a place from where nature is only at a stone's throw!
Let us see what we have now! It is a crisscross!
The 15 containers are rotated in relation to one another. Between all self-contained units there is a vertically placed container, which serves as a staircase. Out of the 15 containers 5 are turned into staircases and 10 serve as "living boxes". Thus the boxes, be they shelters for hikers, or dormitories in the forest for students, are all autonomous, and can be used separately from one another. The boxes can be furnished for one, two or three persons, as the need arises.
The units can be built simply and quickly from recycled materials (containers, doors and windows, coating, furnishing). The containers can be insulated with natural materials and get a coating that matches the surroundings. The energy demand depends on the location and the residents. The units are suitable for autonomous functioning on the planned location. Depending on the terrain we can use wind and solar power, hydro and geothermal energy to operate the units. The communal waste can be handled in a natural way in the vicinity. Waste-water can be cleaned locally. According to need several of such compounds can be constructed on a given plot of land, in the appropriate distance from each other so that the residents do not disturb one another.
The buildings are deliberately low, because we take into consideration where they are built; in these places there is no need for "towers", superfluous stacking of levels. It is a hiding place. A Haven. It is all the same if it is for a couple of days only, for one night or a longer period of time. Because we know that the extent of covering the land is not identical with the extent of the use of the land, i.e. the ecological footprint we leave does not depend on how big our home's outlay is. There is no need for much energy to operate a two-storey building like this. Actually, it is the way of living in the building and its surroundings that will define how big the burden is that we put on the environment. These two-storey buildings have a small ecological footprint. They take and use just as much as it is just enough to make them work.
They hide, conform, nestle. Crisscross.